Admission to Our Addiction Rehab Facility in Prescott
We Will Guide You Through Every Step of Your Recovery
We are in-network with Blue Cross Blue Shield of Arizona and take most out-of-network policies. Additionally, we now work with AHCCCS insurance to make getting help affordable. We also take Cash Scholarship clients on a case-by-case basis. Potential admissions can use our verification of benefits tool or call us.
Holdfast Recovery does not offer detox services. We recommend clients arrive without acute withdrawal symptoms. However, we have detox services in Prescott that we can refer clients to if necessary.
What is the Admission Process and How Does it Work?
At Holdfast Recovery, we understand that building trust and having a clear understanding of the treatment process is crucial for a successful recovery journey. That's why, during the admission process, we take the time to thoroughly explain our program and what we offer. Our goal is to make sure that you or your loved one is a good fit for our treatment, and we do this through an extensive process.
We listen carefully to understand the specific challenges you or your loved one is facing, and work to build trust with you. Our ultimate goal is to advocate for the best possible care, whether that be at Holdfast Recovery or another facility.
In-depth Admissions Conversation: During the admission process, a specialist will have an in-depth conversation with you to understand your substance abuse history, medical history (mental health, trauma), and current situation. This will help determine if the facility is the right fit for you and your needs.(If we are not fit whether clinically, medically, and/or financially we will find a fit for you).
Insurance and Verification of Benefits: Before you start your treatment, the facility will verify your insurance coverage and benefits to ensure that you have the necessary coverage to cover the cost of your treatment.
Cost Associated: The cost of treatment is an important consideration for many individuals seeking help for addiction. The facility will provide you with a clear understanding of the costs associated with your treatment, including any out-of-pocket expenses.
Pre-assessment: A pre-assessment is an important part of the admission process. The assessment will determine the level of care you need and help the facility determine the most effective treatment plan for you.
Employment Hurdles/FMLA: For many individuals, taking time off from work to attend addiction treatment can be a concern. The facility will discuss your employment hurdles and the Family and Medical Leave Act (FMLA) to help you navigate this process.
Travel Arrangements: For many individuals, traveling to an addiction facility can be a challenge. The facility will assist you in making travel arrangements and ensure that you arrive safely at the facility. (We might want to rewrite for clarity, as I want to make sure it doesn't come across as us paying for any travel)
By breaking down the admission process into these topics, you can get a better understanding of what to expect and be better prepared for the journey ahead. At Holdfast Recovery, we understand that making this transition can be scary and stressful. Our team of experts are here to ensure that the transition is easy and that you have the confidence to be successful in journey.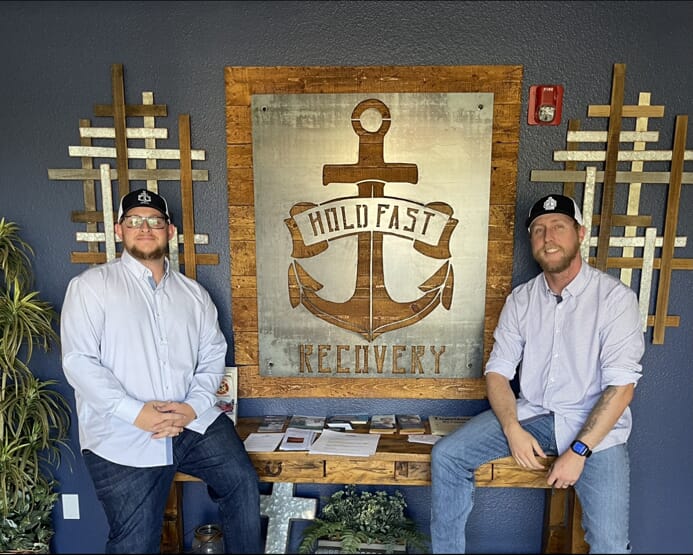 Our aim is to support you on your journey from the grip of addiction to a life of recovery and faith, where you will find freedom, love, and a renewed sense of purpose.
Please contact us online or call us at (928) 492-6565 and Lance or Brendan is happy to provide more details on how Holdfast Recovery can help.
Highly Recommend - Edward H.

Awesome Facility & Great Staff - Andrew S.

Providing the Proper Tools - Matthew P.

Real Recovery - Woody W.

Great Place to Recover! - Jason S.
Robert's Holdfast Journey