AHCCCS Insurance
Making Addiction Recovery More Affordable by Accepting AHCCCS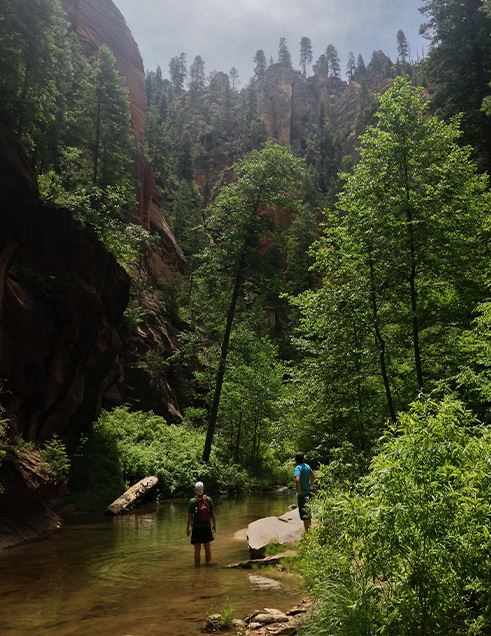 We Know What It Is Like. We Have Been There.
Work with a team who knows exactly what you are going through.
What is AHCCCS?
AHCCCS is Arizona's Medicaid agency. Mostly, Medicaid helps elders and people with disabilities afford certain medical treatments, but, in Arizona, it can be used by anyone who is under a certain income level. Furthermore, Arizona recognizes the Affordable Care Act (ACA) and the Mental Health Parity and Equity Act (MHPAEA), so Medicaid benefits can be used to pay for mental health and substance use disorder treatments.
To be eligible for AHCCCS coverage, you must meet these requirements:
U.S. citizen, LPR, or legal alien

Categorized as low-income
Additional requirements based on your disability, age, and dependents may apply. Furthermore, if you are making too much income to get AHCCCS insurance coverage for no cost, then you might qualify to pay a low monthly premium instead.
What AHCCCS Covers
AHCCCS insurance benefits can cover a variety of different mental health and substance use disorder treatments and therapies. Many of those services are offered here at Holdfast Recovery, which means you might be able to use those benefits to reduce the cost of our treatments. In some situations, and with the right insurance benefits, some treatments might be of no cost to you.
AHCCCS insurance can be used to help pay for:
Behavioral health programs

Therapeutic programs

Crisis services

Rehabilitation services
Residential behavioral health services

24/7 in-patient behavioral health programs

Medication-based substance abuse treatments

Specialized testing services

Treatment housing costs
Using AHCCCS
You can think of AHCCCS as a traditional Health Maintenance Organization (HMO). It connects you with clinics, medical professionals, and pharmacies who accept this type of insurance, just as we do here at Holdfast Recovery. When you are first approved for AHCCCS insurance, you should be instructed to choose a primary care provider (PCP), who will likely be involved in the decision to enroll you in our substance addiction recovery services.
For more information, call (800) 680-7738 or contact us online.
We Provide Top-Rated Drug & Alcohol Addiction Treatment

We Work With Limited Budgets and Insurance

We Support & Care For You Without Judgment
The Holdfast Recovery Team
Meet the Individuals Dedicated to Your Recovery
Brendan McDonough

CEO

"My goal in life is to share Christ by speaking, teaching, and leading by example. To be a father that is present and supportive of my family and children. To fight for the opportunity to set free those who suffer from addiction and trauma."

Tim Hayden

Co-Founder

"Do all the good you can, by all the means you can, in all the ways you can, in all the places you can, at all the times you can, to all the people you can, as long as ever you can." – John Wesley

Jason White

Board of Directors

Jason has 10 years of sobriety and gives all the glory to God. He is actively involved in a 12-step program in his community. Jason has a deep dedication to serving others who are still struggling with addiction and his continued involvement in the client's lives is driven by his love of God and his belief in the Holdfast program.

Mike Stell

Board of Directors

Mike has been in recovery for 5 years and actively participates in the 12-step program of Narcotics Anonymous. Mike has brought a high level of expertise to the board of directors here at Holdfast. Mike has been instrumental in the application of business and ethics during his time here at Holdfast Recovery.

Terry A. Vaughan, M.D., F.A.P.A.

Medical Director

Dr. Terry Vaughan is a physician specializing in psychiatry who has over 20 years of experience treating psychiatric and ...

Jeffrey E. Hansen, Ph.D.

Clinical Director

I have been married for 44 years to a wonderful woman and have two amazing children and one granddaughter who is the apple of ...

Deborah Pallett

Physician's Assistant

Deborah Pallett completed her master's degree to become a physician assistant at the University of Iowa. She has over 20 ...

Libby Smith, Ed.D., Ph.D.

Therapist

Libby Smith or "Dr. Libby" as many of her friends, students, and clients affectionately call her is a Christian, educator, ...

Michael Peterson

Case Manager

Michael's life when he was young was full of trauma. Living through multiple types of abuse, and the absence of any role ...

Carlos Aguirre

Behavioral Health Technician

Carlos is originally from Tacoma, Washington. After struggling with addiction, gang affiliation, and incarceration, things ...

Lance Haney

Business Development

Bio Coming Soon!

Mallory White

Behavioral Health Technician

Bio Coming Soon!